Editor's note: This article first appeared in the 2021 summer edition of Local Magazine, but the content is as relevant as ever as temperatures warm. The 2022 edition is set to hit stands in June.
When James Young talks vintage BMW motorcycles, stories gush out of him like mileage-enriched motor oil. Both are the lifeblood of the machines that he so painstakingly — and at times obsessively — revives to their authentic factory condition. "The early [BMW motorcycles] look like war vehicles but very elegant, gentlemanly. There's not a lot of fluff, not a lot of chrome," said the entrepreneur and seven-year Aspen resident, calling the marque's German engineering, design and reliability "incomparable." "You can restore one of these bikes, and it will take you coast to coast."
Currently Young is working on two 1930s BMWs. He found the 1937 BMW R17 through an East Coast collector and began restoring the inoperable machine to its former glory in November 2008, while still living in Boulder. "There are maybe 20 left in the world," said Young, known to fly to a swap meet in Germany to source original nuts and bolts. "It was the most expensive bike of its day and the first with an oil-damped telescopic fork — think of RockShox on your bicycle. To throw a leg over that and go for a spin is going to be a thrill."
Halfway finished with the reassembly of what he believes to be "the only R17 originally imported to and sold in the US," Young hopes to cruise it to Maroon Bells or Pine Creek Cookhouse by summer's end. The jaunt will represent 13 years of research, travel, elbow grease, solitude and daydreaming.
"Tinkering takes you into a zone, much like fly-fishing, golf or even meditation," said Young in his office-workshop-showroom in Aspen.
Motorcycling is its own form of moving meditation. "Riding a motorcycle is technology's closest equivalent to being a cowboy," wrote Robert Edison Fulton Jr. in "One Man Caravan," a memoir about his trip around the world on a Douglas Twin in 1932.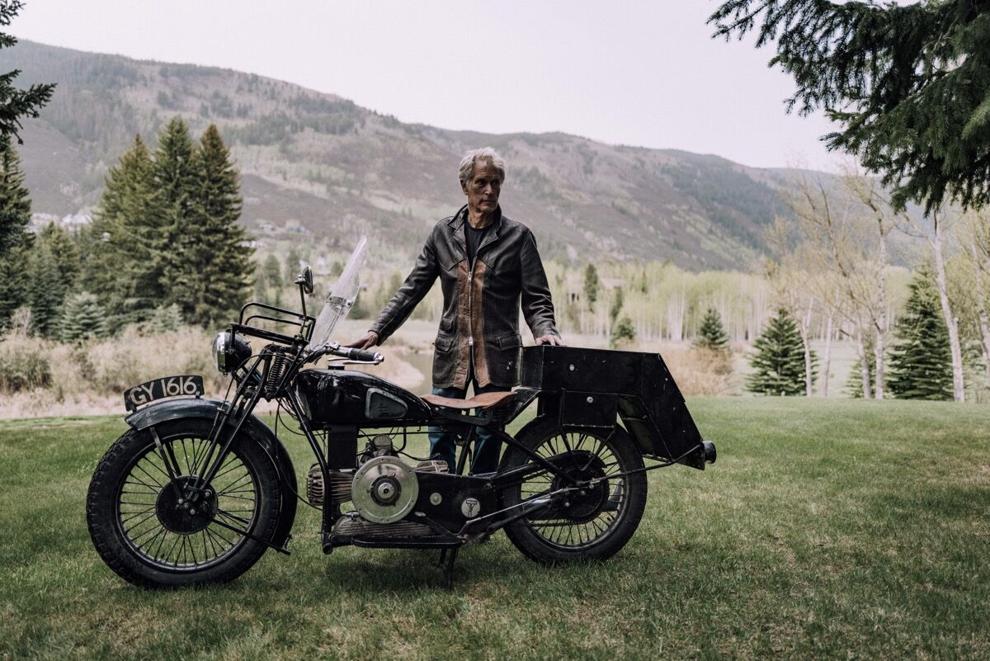 It's no surprise that Aspen's dazzling geography, scant traffic and well-maintained routes — tucked in the Rocky Mountains some 40 miles to the nearest interstate — draw two-wheel broncos from around the world.
Dr. Paula Kadison found "some of the best riding in the world: Colorado, Utah, Arizona, New Mexico," when she moved from Massachusetts to Aspen (along with her 2006 "lightweight enduro" BMW F650 GS) to launch a new internal-medicine practice in 2010. The medical professional earned her motorcycle license and bought that first bike in 2006 at age 48. Here, she traded up to a 1200cc Ducati Multistrada S, to better "keep up with my friends on the twisties." It's on asphalt, she said, that vulnerability meets trust.
"With the Ducati, I feel a connection," she said. "Going over McClure Pass, past Paonia Reservoir on those curves, you're absolutely connected. It's a high-performance machine, so you have to be present and focused. That, to me, is the spirit of motorcycling.
B. Lee Schumacher seeks that flow, too.
"It's the ride, not necessarily the destination," said the BMW buff who keeps his vintage-motorcycle and car collection in a converted barn on Lower River Road in Snowmass. "We have roads here — like right here — for anyone who likes to corner on a motorcycle."
Smooth and hilly, the "back way" from Aspen to Woody Creek and beyond via Cemetery Lane is a local treasure. Schumacher, a retired lawyer, rode a "Dover White" 1968 BMW R69S with Ural sidecar to his office Downtown for nearly 30 years.
"I'd go to the lumberyard and then pick up the kids from school," he said. "Since it's a motorcycle, you can park for free in Aspen, on the end of the block. There's a large and vibrant motorcycling community in the Roaring Fork Valley. It's a real riders' culture."
Will Rutledge is a ringleader. For about a decade he's led guided excursions through Ace Motorcycle Tours and has organized locals' favorite rides to Marble, Redstone, Buena Vista and Mesa Verde National Park, some of which lure up to 15 people. Of course, motorcycle riders share an adventurous, often adrenaline-seeking attitude and love of the great outdoors. In Aspen they're also often educated, independent, unconventional and art aficionados.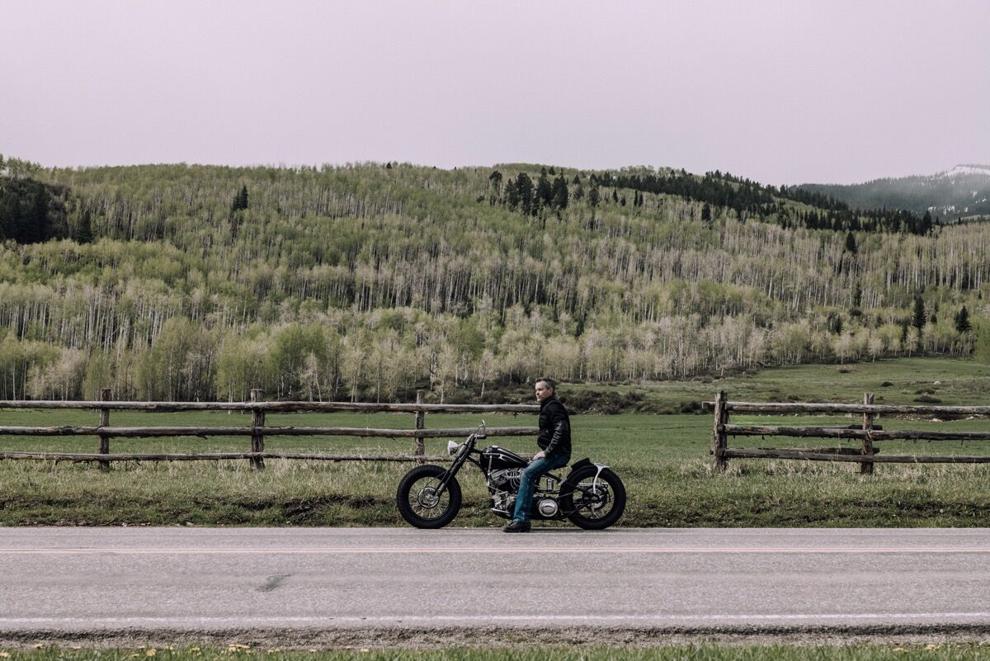 "You're encapsulated in a car, and your freak flag isn't flying really, is it?" said sculptor and artist Travis Fulton, son of Robert, with a grin.
In the East End this May, Fulton fired up his father's bike, "the Dougie," which was built before commercial air travel or television existed. The beast with a rebuilt engine roared awake on the very first kick-start. Fulton will ride it to and from his home in Old Snowmass — that is, until it moves to an exhibition at the Petersen Automotive Museum in Los Angeles.
"It's fun to be in a town where people appreciate the extra effort put in to keep these things running," said Bob Dillon, owner of Aspen Total Automotive (ATA) and a former Chicago finance professional. "You solicit much more of a response here than you do in other ­metropolitan areas. People have a better appreciation [for] preserving the style and elegance [of] the past, which was a little less hectic than it is now."
Dillon's daily driver, a 1965 BMW R69 with rare Steib S250 sidecar, has room for both his fiancée, Sally McPherrin, and Labrador, Sadie. And, he adds, "When it's a nice day, and I have to go out on a call for ATA, I can throw a set of tools in [the sidecar] and go jump a car."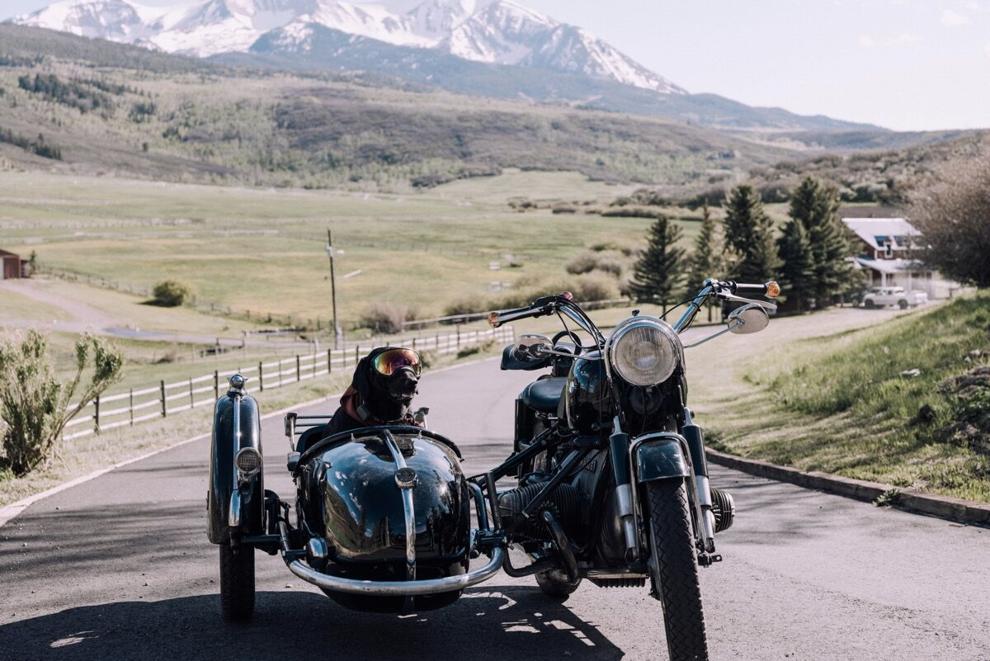 Colorado's notoriously unpredictable weather and abbreviated warm season (May to October or June to September, depending on storm cycles) only enhances the excitement for motorcyclists.
"It's still surreal I live in a place that snows and then the next day I can get on my bike and be free," said Eduarda Rutledge, a Florida transplant who began riding in 2013 after meeting her husband, Will. (He proposed on a moto tour of U.S. Route 101, where the Russian River flows into the Pacific Ocean.) She rides a 2010 BMW R1200 GS for touring, and McClure Pass has her heart.
"The views, the curves, it's not too steep," she said. "You can just let go."
Schumacher tours, too. He once rode from Northern Chile to Ushuaia, Argentina, on the southernmost tip of South America (the "end of the world") and up through Alaska to the Arctic Circle (10,200 miles in five weeks) on a BMW R1200 GS. Even puttering around town, he feels uniquely immersed in his surroundings.
"On a bike, you're riding in three dimensions and much more attuned to the environment," said Schumacher, also the proud owner of a 1955 BMW R27, won in a BMW National Rally raffle; a 1948 Indian Roadmaster Chief with Indian Princess sidecar; and an altitude-sick 1910 Dale that looks like a bicycle with a pedal chain and a leather engine drive belt. "You smell things that you're not gonna smell if you drive by in a car. What's fun for me is leaning over and feeling that rhythm of the road. It's like flying."
Rutledge cruises his customized 1957 Harley over Independence Pass for that sensory rush — 1.5-gallon gas tank be damned.
"When you ride past Twin Lakes," he said, "the cold air off the water changes the temperature on the road. You're in it. The memories are so vivid."
No matter that the black hardtail beauty — which features a rear fender hand-tooled from a '50s-era Chevy automobile and has won titles as a collector's bike — makes just 40 horsepower (versus new models with 90-110 hp) and lacks modern suspension.
"You go as far as you can until your back hurts," said Rutledge.
It's a small price to pay for "an art piece that will pay you back with experience."