The best bike rack for cars is a way to open up your world. While it's very romantic to ride out your front door and never touch a car, unfortunately, it's also limiting. No matter how amazing the riding out your front door might be, after a bit of time, you will have covered every possible route. You can keep pushing farther and farther but sadly none of us has an unlimited amount of time to ride and covering the old landscape to get to the new will eat away at our time.
That's why you can think of the best car bike racks and carriers as a ticket to new adventures. Loading up your bike opens up your world of riding to new landscapes and maybe even new types of riding. You might consider driving to an after-work race during the week or a faraway weekend race. Or maybe you've been perusing our list of the best gravel bikes and you'd rather start and stop out of the city. Whatever your motivation might be, new adventures await when you've found the best bike rack for your needs.
If you want to get to even more exotic locations, a car might not be enough. Getting to even farther destinations will mean the need to head to the airport. In that case, you'll want to look at our list of the best bike travel cases. The goal is the same in both situations. New vistas to see, new hills to climb, no experiences, and new adventures. 
We've spent years testing the various options for metrics such as weight, built quality, security, ease of use and more, so if you're ready to expand your riding horizons, keep reading to see our choices for the best bike rack for cars of all kinds. 
Best bike rack for cars that mounts on a hitch
Tow ball, or tow hitch, based racks are not the cheapest option but they are often the most convenient and accessible to the most people. Trucks and larger vehicles will come with a 2in receiver tube however, even if your vehicle doesn't have anything from the factory, there's almost always a kit available. You'll want to look for a quality system that mounts to the frame rails and not the bumper and what's available will depend on the tow ratings for the vehicle in question. 
Keep in mind that in the US, a 1 1/4 receiver tube can be one of two different types of receivers. Both class 1 and class 2 hitches use the same size but they are different. You'll want to search carefully to see what the rack manufacturers rate their racks for. A class 1 hitch limits the insertion depth and, in some cases, even if a rack is the right size, it won't mount. 
Once you've figured out what will work for your car and sorted the vehicle side, there are some distinct advantages. Choosing a hitch option from our list of one of the best bike racks for cars will often mean a tray-style rack with no possibility of bike, or vehicle, damage. If your vehicle is tall, you don't have to lift a bike over your head and if you leave it on, many will tilt out of the way for access. When you'd rather remove the rack, it's usually easy. 
Another consideration for this style of rack is local laws and regulations. In Australia for example, if the rack obscures your licence plate, you'll need an official accessory plate from the RTA. The rack will also need to illuminate the plate to ensure visibility from at least 20m away in poor light conditions. In the eyes of the law, the classic photocopy or piece of cardboard with your plate number scribbled in sharpie will earn you a hefty fine. That's not all; you may also cop a fine for driving around with an empty hitch rack on the back of your car. The moral of the story is to do your due diligence about what's required in your country before making a purchase.
Positives
The best hitch racks are easy to fit and remove from your car
Some are foldable when not in use
Their position means you needn't lift bikes far from the ground
Some tilt away from the car, allowing access to the boot/trunk
They are typically compatible with all styles of bike, without axle compatibility concerns
Negatives
Vulnerable to a crash
Requires your car to have a tow ball/hitch
They can obscure your vehicle registration plate and lights, which if left unresolved, can be illegal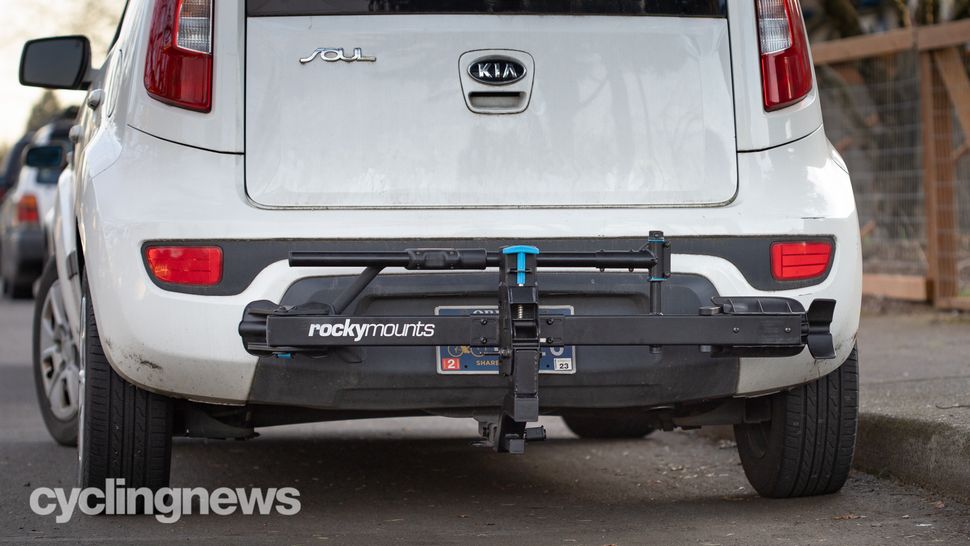 Not everyone needs to carry a bunch of heavy bikes. Also, not everyone wants to leave their rack attached to the car when not in use. If you only occasionally use a bike rack and you tend to ride alone, or at least drive to the ride alone, then the Rockymounts MonoRail Solo is a perfect choice. The price is lower than other options and it's exceptionally light at only 25lbs. Taking it off the car and storing it is an easy one-handed affair. It also doesn't lock you into your current situation. If you decide you need to start carrying a second bike the MonoRail add-on allows adding capability. A few screws and a five-minute transformation will have you ready to double your load capability. For the times when you aren't using the MonoRail add-on, it's just as light and easy to handle as the base unit.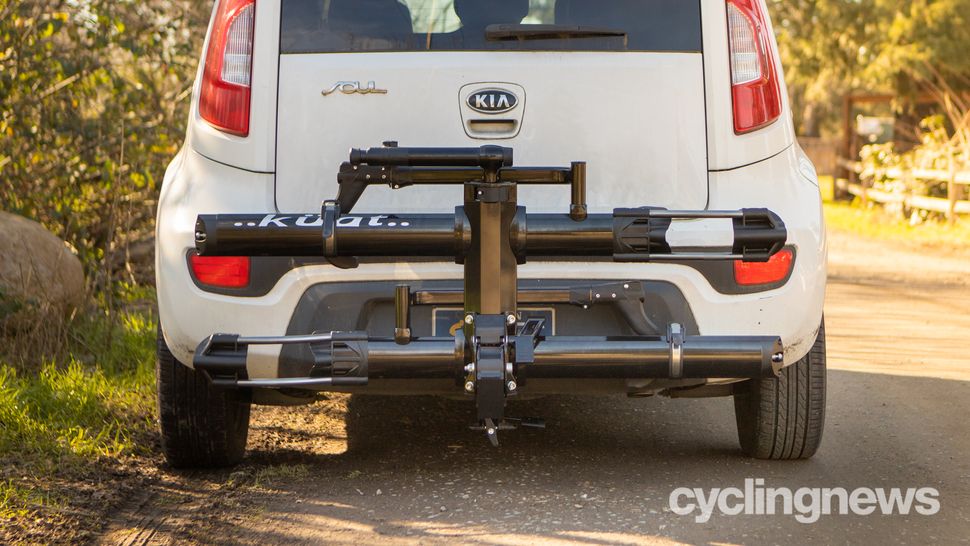 Kuat makes some of the best-looking car bike racks on the market. It uses a half-wheel loop design similar to the Thule Pro XT as well as a ratchet strap meaning it can accommodate a range of wheel sizes and tyres of up to 4.8in in width. The wheel cradles are adjustable to avoid bikes bumping into each other on the rack and there are removable cable locks. 
The installation process is tool-free and an expanding adaptor takes up space in your car's hitch receiver to eliminate wobbles. The tilt switch can be engaged hands-free and there is even a brilliant bike repair stand built-in for adjustments and repairs.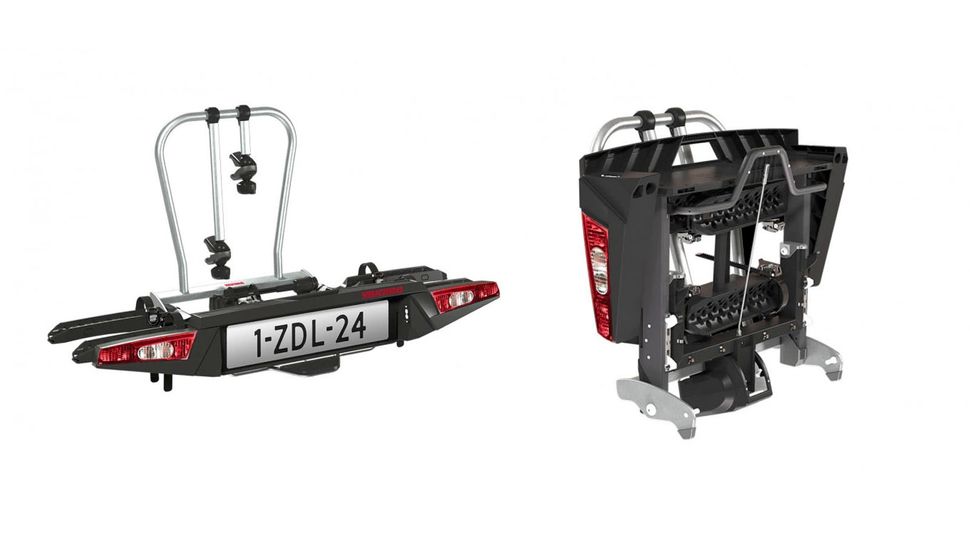 Yakima's FolkClick 2 car bike rack utilises the towbar instead of the hitch receiver and has a surprisingly high weight limit — you can easily carry two e-bikes and still have weight left over. Not only is the rack quick and easy the install but it weighs just 14kg. The big selling point here, however, is its ability to quickly fold away, not to mention the inclusion of a ramp to help you get your bike in place come loading time.
Its design features two wheel-trays as well as arms and clamps to grab onto your bike's frame. A foot pedal unclips the base of the rack to tilt it out of the way so you can quickly get into your trunk. The setup also includes a locking system for both the bikes and rack itself.
Best bike rack for cars that mounts on the roof
Most roof racks attach to crossbars. For some vehicles that will mean factory rails that come pre-installed but even if you've got a flat roof, there are options. Aftermarket brands offer a range of bars to fit the flat roof of most vehicles with options that range in price and style. There are less expensive square bars or sleek aerodynamic offerings. 
Bikes are then secured to the roof using the frame, front wheel or front axle. Each of these has advantages and disadvantages; however, the key thing to consider is will you be able to lift your bike onto the roof in the first place. If you're driving a tall SUV, consider a hitch or towbar car bike rack, as getting heavy bikes onto the roof can be precarious. For ebikes the weight means this style of rack isn't going to work at all. 
As long as you are comfortable getting your bike up on the roof, there are a few options for how they stay there. Wheel-off systems keep the bike a little lower and make it a little easier to lift up on the roof. The challenge with using the axle to secure the bike is that there are a lot of variations. Different axle standards and hub spacing might mean easy to lose adapters. 
The other option is a wheel on system. This style uses a retention system like what you see on hitch racks but it's up above the car. There are a few that instead grab the downtube but we would tend to steer away from this style. They can scratch your paintwork and, in the worst case, crush the frame. Wheel-on roof-mounted car bike racks are great if you're transporting bikes with various hub and axle standards. They don't touch the frame but they are a bit less stable, more expensive and require you to lift the bike higher. 
The biggest advantage of a roof system is that it's not something you have to think about when it's not in use. The crossbars are either part of the car, or easy to live with always installed. The racks themselves are much lighter than a hitch system since they separate the bike retention from the car retention. It's also worth considering that if you've got a flat roof the initial investment of a rail system opens your roof up to all kinds of add-ons for different uses. 
As far as bikes go, the roof keeps them safe from backing into something. Bikes on the roof are also safer from other drivers should you get into a fender bender. Don't forget the bike is up there though. There's a lot of sad stories about driving into a garage with bikes still attached.  
Positives
Easy access to car boot/trunk
Widely compatible with car types
Unrestricted view through rear window
The best roof bike racks offer can cater for the most bikes
Negatives
The high position makes it harder to load bikes
You may need to buy roof bars if you don't already have them
Be careful driving into height-restricted multi-storey car parks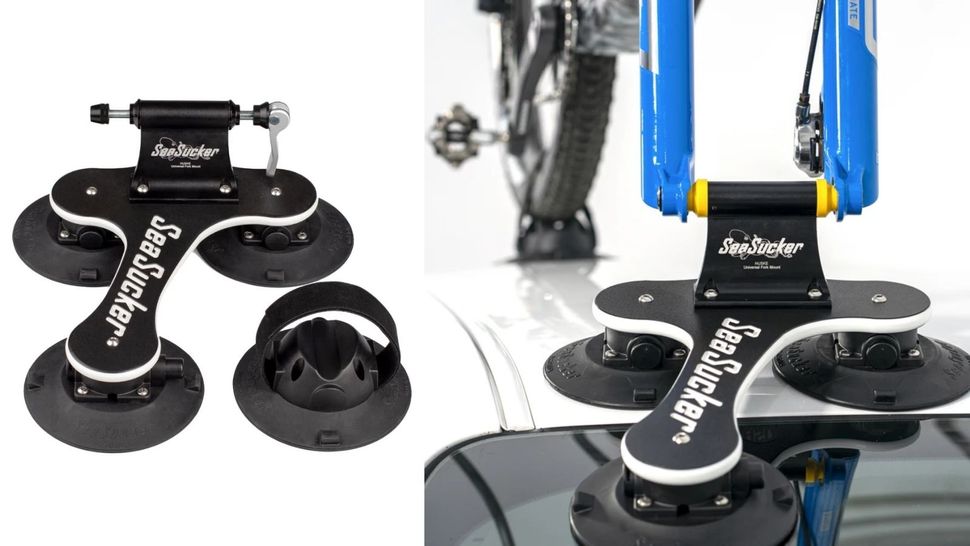 The SeaSucker Talon doesn't look much like a roof rack at first, but this innovative design can carry a single bike with the front wheel removed. Doing away with nuts and bolts, it uses vacuum suction cups to affix your bike to the roof of your car.
Don't worry, it's perfectly safe and very effective, and the Talon comes with a pump included that you can use to remove air from the cups so you know it's firmly stuck into place. According to the brand, each cup has a pull rating of 95kg, so that sucker's not going anywhere.
Meanwhile, the rack itself weighs a mere 2.12kg in total and is so small that it can be stored away easily when not in use.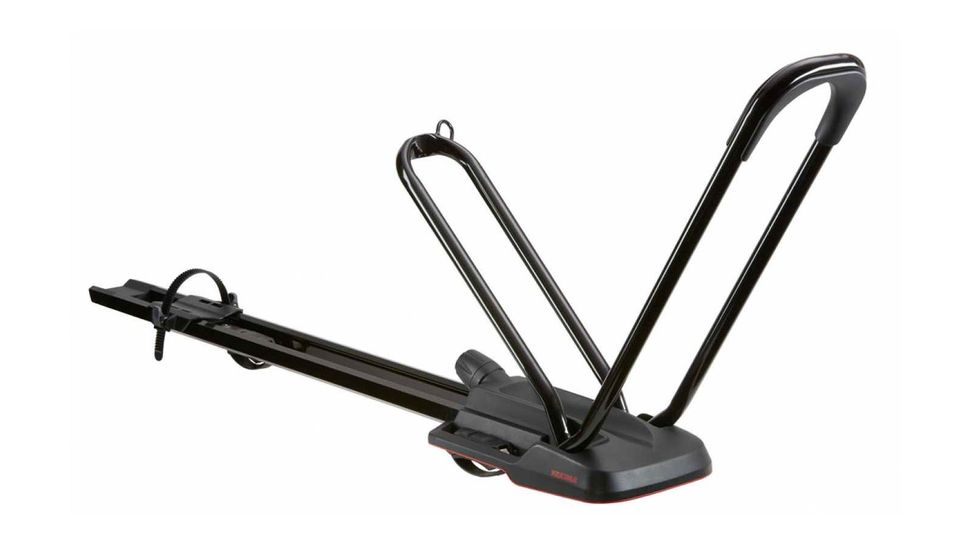 The Yakima HighRoad is currently on the roof of this writer's car and is one of our favourite car bike racks because it doesn't touch the frame at any point and is compatible with 26- to 29-inch wheels regardless of axle standard. It's one of the easiest and intuitive roof racks to use, provided your car isn't too tall.
There is no faffing with adaptors and you don't even need to adjust the front wheel loop to suit different wheel sizes. The rack holds bikes securely even if your trip to the trailhead involves some Overlanding and it's not an eyesore either come to think of it
The HighRoad is nearly perfect but could do with a set of locking barrels and be more accommodating when it comes to mudguards.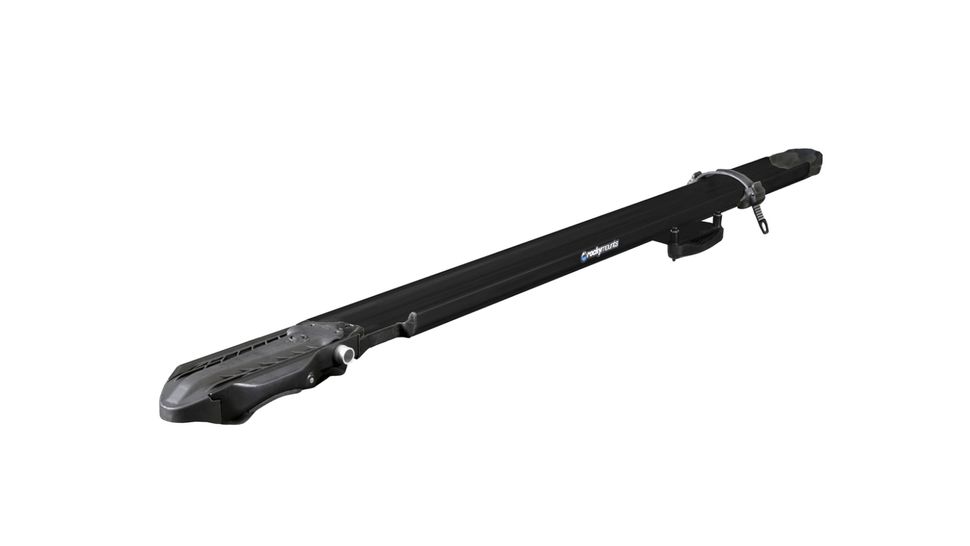 Hailing from Colorado, RockyMounts is a company that specializes in making high quality products at excellent prices. They aren't always the most feature rich but they are always high quality. Rockymounts doesn't make any crossbars but they do have products that will work with both factory and aftermarket crossbars. The Switch Hitter is an option that connects to bikes with 9mm quick-release front skewers as well as current thru-axle standards. Using a roof mount with the front wheel removed keeps the bike just a little lower plus it's highly secure.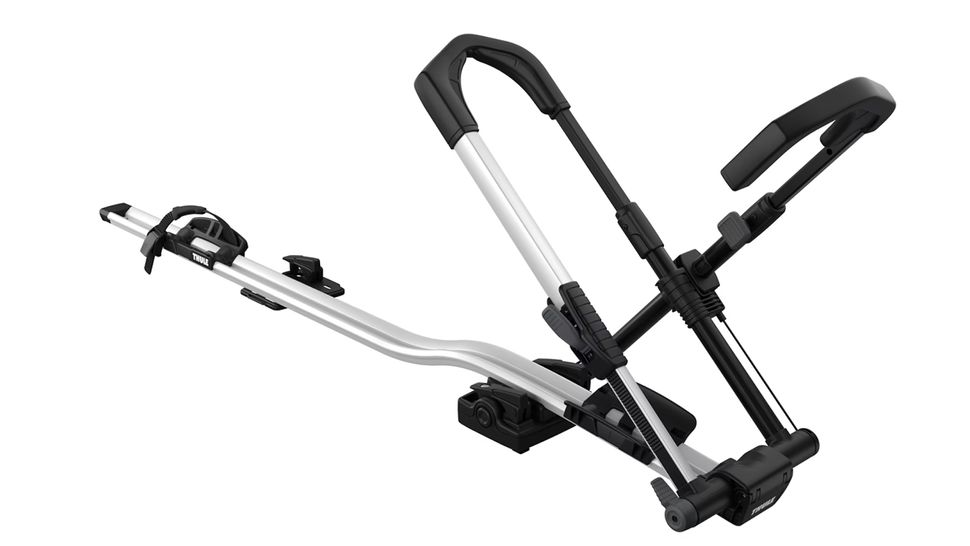 There are a lot of similarities between the Thule Upride and the Yakima HighRoad. We've decided to include them both because they are both high-quality wheel on options for mounting a bike on top of a car. The front mount of the Yakima is a little bit easier to use while the rear strap on the Thule is a little bit nice and it's more protective of the rear wheel. When it comes to locking the Thule has the advantage in that there's no cable and instead it's integrated into the rack. The biggest point of differentiation though is going to be the larger system. A key advantage of a roof rack is that it can extend beyond just a single bike rack. If you think you like the other pieces in one system vs the other, you'll want the matching bike rack for that system. 
Best bike racks that install on the trunk
Trunk and boot racks attach to the back of your car using straps, with feet stabilising the whole thing against the car. With trunk/boot racks, installing the rack correctly is paramount. If you don't have something in the right place, or pulled tautly, it can damage the paint on your vehicle. 
The other challenge with these types of racks is that they work best with a traditional style of bike. The ideal bike for going on a trunk, or boot, mount rack has a flat top tube and plenty of room in the main triangle. Any bike with a big slope in the top tube, or something heavier, is going to be much more difficult to mount. 
The advantage of trunk mount racks is that they are super light and inexpensive. If it's incredibly rare that you use a rack and you just need to occasionally transport an older road bike then these might be worth a look. The price is going to be well below what you will pay for any other type of rack and they are so small you can keep one in the car for emergencies. 
Positives
Usually the simplest and cheapest option
Simple ratchet-strap fitting so no specific fixings are needed
Position means it's relatively easy to fit and remove bikes
Negatives
Restricted view through the rear window
Restricted access to trunk/boot
Can be hard to fit bikes without a horizontal top tube
Can obstruct your car's registration plate and lights, meaning a separate number and light board is required
The contact points can damage car paintwork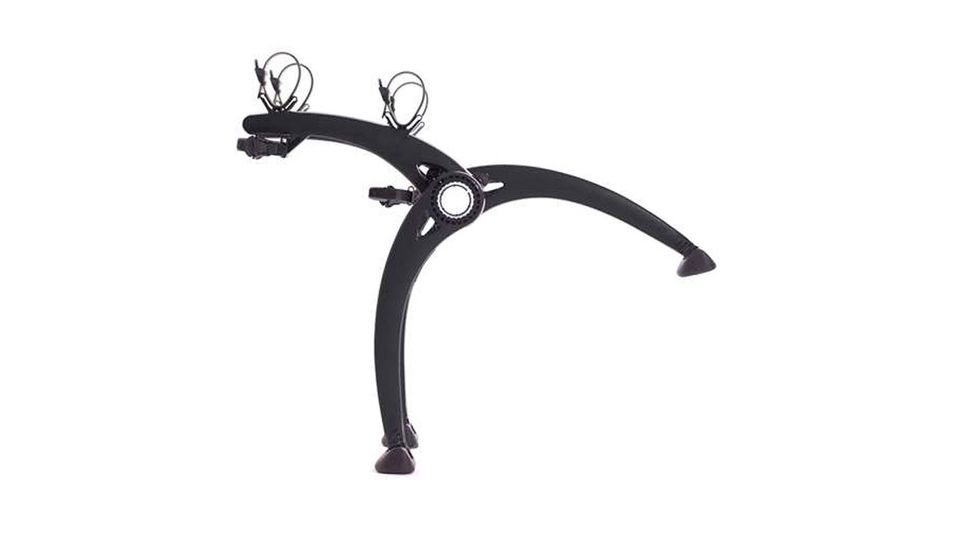 If it ain't broke, don't fix it. That is the mantra Saris has used with its Bones 2-Bike trunk/boot car bike rack. The design was first introduced in 1996 and hasn't changed all that much since.
It's available in two- and three-bike versions and is made from 100 per cent recyclable materials and everything from the articulating feet to the arms are adjustable to make the rack fit onto just about any car — including those with small spoilers. 
The arm that supports the bikes is curved which provides extra clearance, and the seatpost strap prevents the bikes from wobbling around too much when everything is mounted. Unfortunately, the front wheel is still free to move around, although this is something that even the best car bike racks of this style fail to efficiently address.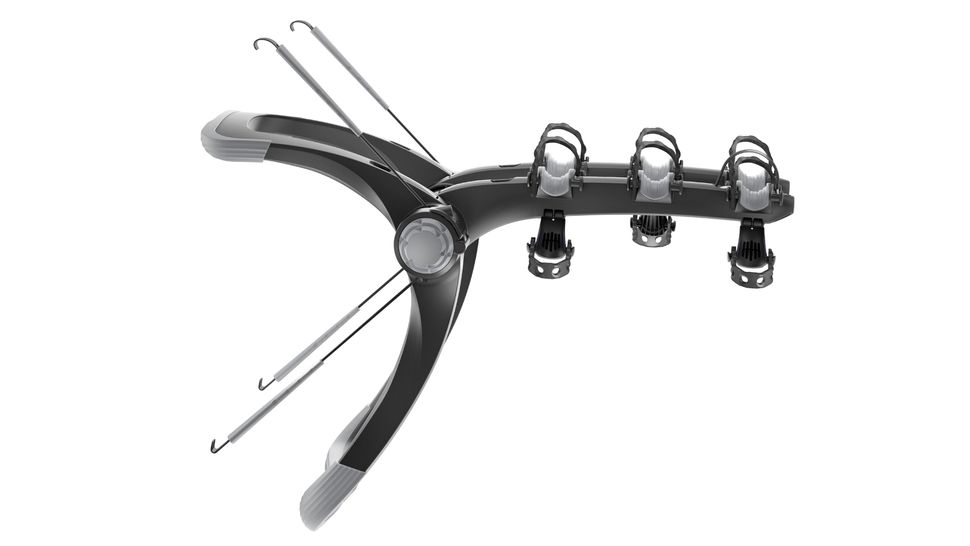 Using a series of ratcheting locking cables to secure the rack to your car, the RaceWay rack is easy on paint jobs, and the built-in Fit Dial system makes sure once the rack is mounted, it's not going anywhere. Unlike most of these trunk/boot-style racks, the RaceWay 3 can actually be locked to the car. 
It will hold three bikes using a top-tube mount that Thule calls Road Damping cradles to protect your frame from bumps. The rack also utilises a 'NoSway cages' which prevent the bikes from knocking into one another as you're cruising down the road. The cages are also fully adjustable for bikes of every size.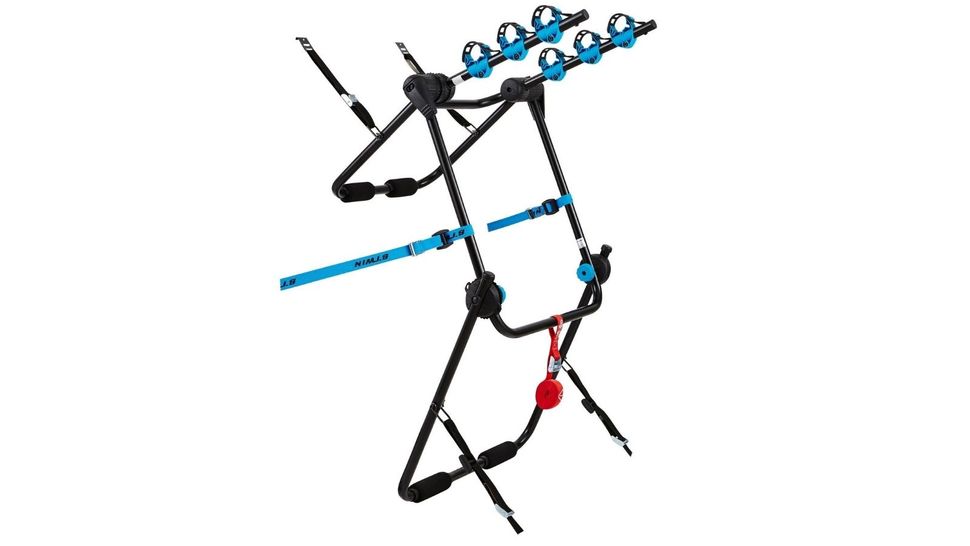 This affordable and foldable bike rack from Decathlon can carry up to three bikes, and is designed to sit high up so as not to get in the way of your registration plate or rear lights. When not in use it folds flat and can be easily stored away until you need it again.
It features adjustable straps for a good fit, and the feet that come into contact with the car are rubberised to protect the paint work. It does come with some padding to protect your bike frames from damage, however we'd also recommend supplementing it with a bit extra to be safe.
Bikes that don't feature a horizontal top tube will need an adapter to hold them in place.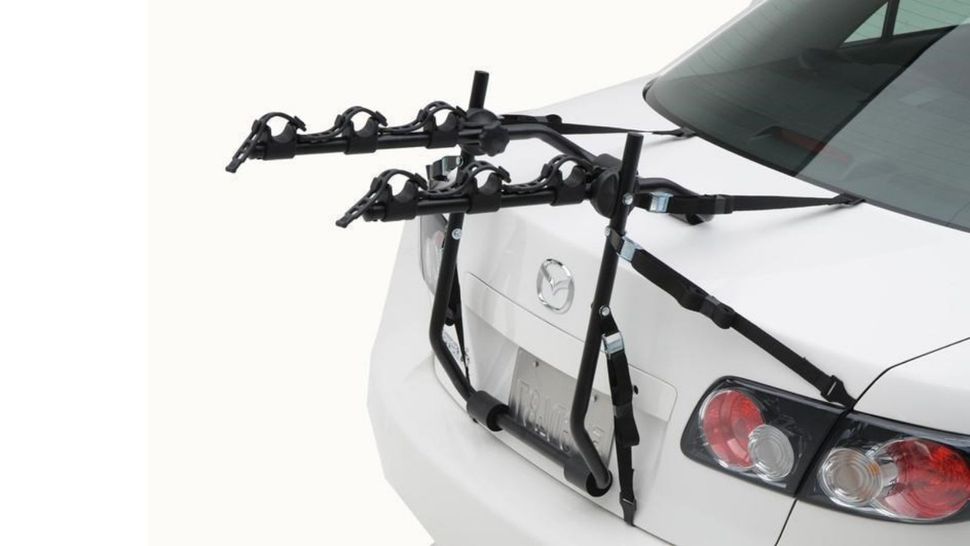 If you're looking for something simple and budget-friendly, the Hollywood F9 Express E3 bike rack could be the ticket. Able to transport up to three bikes at a time, it's super sturdy and capable, as long as you use all six of its straps to achieve adequate grip on a solid area of your car. Without this there's a risk of wobbling.
To keep things as simple as possible, the rack arrives readily assembled, so there's no need to scratch your head with an instruction manual (as many of us are loathe to do), and when it's not in use you can fold it neatly away into the boot for storage.
Rubber tabs keep the car's paintwork protected, while the bike frames are shielded from each other with rubber separators.
How to choose the best bike rack for you
Is my car compatible?
The first, and most important thing to consider when choosing the best bike rack for your needs is to ensure that whatever you buy will be compatible with your car.
To do this, you need to understand how each of the types of bike rack works. Ahead of each section above, we've explained the details of how they function, but a quick run-through is as follows:
Roof-mounted bike racks fit onto the roof bars fitted to your car, which you may need to invest in if you don't have them already. Nearly all cars will allow this, but you'll need to ensure you get ones that are compatible with your car. 
Hitch mounted bike racks need your car to have a tow ball/hitch fitted. If your car doesn't have one, you can get one fitted but this will come at a cost, of course, so first consider whether it's better value than opting for an alternative type of bike rack. 
Trunk/boot mounted bike racks use straps and clips and simply fix to the rear of your car using tension applied to the straps – usually using a ratchet mechanism. These come in different forms that are compatible with saloon and hatchback type cars respectively. 
How many bikes do you need to transport?
The next thing to consider is how many bikes you wish to transport. Of course, the more bikes a bike rack can handle, the more expensive it's likely to be, so while a rack that can carry four bikes might be nice to have just in case, you might be paying for something you never actually use. 
This is most pertinent with trunk or hitch-mounted racks, as they're designed to carry a set amount of bikes and no more. However when it comes to roof-mounted racks, they're usually designed for a single bike, so you can simply buy more at a later date if the family grows. 
Are your bikes compatible?
The next thing to consider is whether it will actually fit your bike. The questions here depend on the bike & rack you have in mind. 
With roof-mounted racks, they usually hold one or both wheels in a groove to keep it steady, and wrap a strap around the wheel to hold it in place. If you're using a bike with fat tyres or deep rims, check the width and strap length to ensure it'll fit. Some then fit a brace bar to the down tube of the bike, clamping it in place. If you're using a bike with deep or thick tube shapes, this is an area to check. Others remove a wheel and bolt the bike into place using the axle, so if you're opting for one of these, check the corresponding axle on your bike to ensure the rack comes with the right sort. 
As for hitch racks, the same applies to the groove in which you fit your wheel, so don't forget to check that'll be compatible. 
And with trunk or boot mounted bike racks, these usually suspend your bike from the top tube, so if you're riding a mountain bike with full suspension, or a hybrid bike with a step-through frame, this could make things difficult, as the bike will be suspended at a potentially insecure angle. It's also worth checking the width between the two braces, as if you're trying to transport both adults' and kids' bikes together, then you'll need to strike a balance between wide enough for stability, and narrow enough to fit through the small frame. 
No matter the type of rack, they all have a weight limit, so if you're transporting an e-bike, then be sure to double-check the combined weight of your bikes and ensure it doesn't exceed the limit. 
Is there anything else to consider?
Finally, if you've reached this point and different types of bike rack are still compatible and available to you, then consider the other non-essential characteristics of each. Ahead of each section above, we've listed pros and cons for each type, which should help you decide, but it's worth weighing up the importance of things like how easy it is to load and unload, access to your trunk/boot, vulnerability to crashing and how they obstruct your visibility whilst driving. 
How do we choose these products?
We are a dedicated group of cyclists and we try to ride more than the average person. We ride when it's cold, when it's hot, when it's raining, and sometimes even when it's snowing. We spend time racing and we spend time exploring. 
As part of all that time, we are always testing new products to share with you. We have the opportunity to drive to more rides and try out more options for carrying bikes on cars. Each time we have a failure that builds our experience with what works and what doesn't so that we can share that knowledge with you. We've brought together a collection of products that cover a wide range of use cases so that no matter what kind of bike, what kind of vehicle, and in this case even what country you might be in, there's something for you.